The bookshop
The Bookshop at the Ara Pacis Museum was created to link the interior and the exterior, the Museum and the city.
Its special position close to the museum's entrance and at the end of the museum's exit route, as well as free access from the square in front of the museum, provides free access for both visitors and walkers, changing it from a common museum service into a real meeting point, a place to relax and enjoy.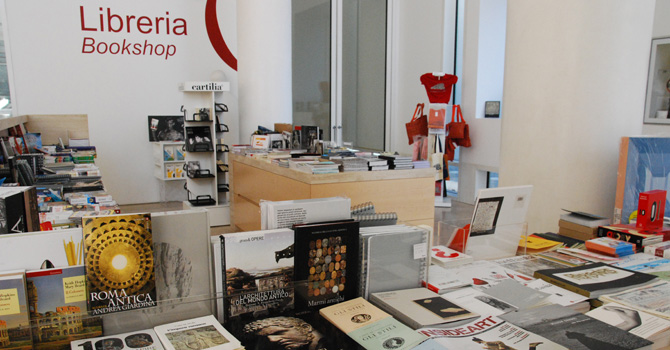 The Bookshop contains a collection approximately 1,000 titles, including the Museum Guide, in Italian and English, and a special text about the Res Gestae, but also the Museums in the Municipality publications, several classical archaeology texts and essays on Roman history.
The focus, in any case, are publications about contemporary architecture and design of the 20th and 21st centuries, including a number of monographic works about the architect Richard Meier, in order to meet the specific wishes not only of visitors to the Museum's display and temporary exhibitions, but also students from the nearby Faculties of Architecture and the Academy of Fine Arts.
Guidebooks, thematic, design and cooking guides and educational publications for children complete the offer on the bookshelves, combined with a selection of excellent Italian design products and others from all over the world, for adults and children.
photography, contemporary art or concerning other artistic areas, the bookshop changes, offering specific publications according to the themes covered.
A professional and friendly service is available not only for direct purchase, but also for the ordering of titles and articles on demand, including delivery at your home address.
Payment can be made by cash, credit card or debit card.
From September 2012 an additional point of sale was opened in the exhibition space of the Ara Pacis Museum, with entrance from Via di Ripetta. The exhibitions about the Impressionists, Salgado, the Russian Avant-gardes and Henri Cartier Bresson have received great interest and excellent sales in the last few years.
In fact, this bookshop is totally dedicated to the publishing and merchandising material for the temporary exhibition in progress and gives direct access at the visitor who prefers to visit only the exhibition instead of the entire museum.